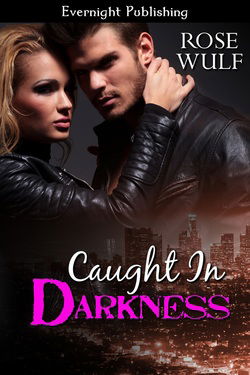 Veronica Wyndham had no idea that vampires were real, let alone that her new favorite customer—Tall Dark and Handsome—just so happened to be one. And she never imagined she'd overhear a robbery plan with murderous potential while eating lunch in the park. Making those kinds of enemies just wasn't a good way to spend a day.

Seth Hunter knew he should have been grateful for Veronica's unintentional help in exposing the traitors, but all he could worry about was how much danger she'd just landed in. Instinct had him taking it upon himself to keep a protective eye on her, but even then he had to keep his distance. If she found out the truth about the world around her, she would surely get Caught in Darkness.
About the story...
The story that is Caught in Darkness, and the series it begins, was born in a college creative writing class. I don't remember the original assignment anymore (it was more than a decade ago, after all!), but the first version of Veronica and Seth's story was much different - and shorter!
After the classroom draft, I rewrote the story again one or two times in efforts to get it how I wanted it with no success.
Finally, in August of 2012, while I was on a wonderfully relaxing vacation, I was able to get a solid grasp on the story that is Caught in Darkness. I think I wrote more than half the book in the week of that one vacation! It was great to be able to sit back and let the words flow.
But where did I get the idea? Well, that's simple. For most of my life I've been a fan of something paranormal / supernatural, so I always knew I was going to write a series with vampires, and a series with werewolves. Vampires are commonly associated with werewolves, so it made sense to me to put them together in the larger world of the Night Shadows series. After that, it was a matter of figuring out the origin of those creatures, and as that story came to me so, too, did the realization that my series would need more than just vampires and werewolves. So, I created two more types of beings. Witches and Slayers.
All of this detail doesn't make it into Caught in Darkness, because the story that revolves around Seth and Veronica doesn't require it, but because Caught in Darkness is also the first book in this series, I made sure to at least introduce the concepts. If only by mentioning them. Veronica, at points, is representative of the readership - she's as unfamiliar with these creatures and their rules as the reader. I used that opportunity to explain the existence of things which appear briefly, or not at all, and hint at the larger scope of the Night Shadows series.
Once I knew how my fictional world was born (which is answered in the most recent Night Shadows book), I was able to figure out how it looks in their version of these modern times. Vampire society is complicated, and that's a big part of the tension in Caught in Darkness.
So, it might have taken me quite some time to get Caught in Darkness the way I want, but I'm very happy with the end result!
The Night Shadow Series...
Where to Buy...
AMAZON * SMASHWORDS * IBOOKS * BARNES & NOBLE * BOOKSTRAND * KOBO
About Rose
When I was little, I would tell anyone who would listen that I was going to be an author when I grew up.
I started writing when I was probably ten or eleven. Nothing serious, of course, but I wrote a lot! These days those old stories are all boxed up in my closet, and that's better for everyone. I haven't stopped writing, though. Or dreaming!

With my lifelong goal of becoming a successful author in mind, I graduated California State University, Chico with a Bachelor's in English and a Minor in Creative Writing. I learned a lot in my writing classes and it wasn't long after graduating that I finally achieved the first crucial step in my goal--becoming published! I signed my first publishing contract in 2012, for a novella that's no longer available with a publisher that's no longer in business. Before that publisher closed its doors, I discovered Evernight Publishing, and in 2014 released the first book in my Night Shadows series under their banner. Several years later, that is a decision I am grateful for every day!

Outside of writing, I live a quiet life with my mom and my dog. I find inspiration all over the place and keep some kind of notebook basically everywhere I frequent (yes, they are ALL over the house).
I love hearing from readers, so please don't be afraid to send me a message via the Contact Me page! The only thing that would make me happier is a review of your favorite book... ;)
I also have profile pages on Amazon, BookBub, and Goodreads, so feel free to check them out!