Hello Blye! Thank you so much for visiting Written Butterfly with me today! It's such a pleasure to chat with you. So tell me…
Q) Is your book part of a series? Hi! Thank you for having me. I'm super excited to chat with you today. My book Small Town Frame-up will release on February 21st. It is the third book in a series of interconnected stand-alones. The books are set in the same fictional small town, Rolling Brook, which is located in the hills west of Chicago, IL. The books follow siblings from the same family and detail the dangerous situations they find themselves in for love. Small Town Frame-up is the sister Daisy's book, and it has a brother's best friend trope. Writing Daisy and the hero Jameson's story was so much fun because the tension with these two is intense. They refused to make things easy on each other, so theirs is a slow-burn romance which I love.
Q) What was the hardest (or easiest) scene to write? The hardest was the sex(Can I say that? Lol) scene. It's fun because the character's are finally getting together, but it's always the hardest to get right. I think I struck a good balance between just enough steam and making it realistic.
Q) What type of research did you do for your book? In the book the main female character finds herself framed for a crime, so I had to research Illinois drug laws, procedures for arrest, court and trial procedures and more criminal-related things. I'm pretty sure I googled, "What happens if cops find drugs in my house?" So I know I've got to be on a watchlist somewhere, lol.
Q) What made this story special to you? We've gotten snippets of Daisy and Jameson in my previous two books, but it felt so good to finally write their story. Jameson really surprised me. When I started writing him, I thought he was going to be my first cinnamon roll/beta hero, but he wasn't having it. Eventually, I listened and realized that the dynamic wouldn't have worked for Daisy because she's just too strong a woman. Jameson's also special because he's inspired by none other than Diana Gabaldon's Jamie Fraser. So, if you're an Outlander fan like me, you'll love Jameson
Q) Do you have a writing quirk, or habit when you write? Hmm, I don't think so. I do prefer to have quiet or soft instrumental music in the background. I'm not one of those people that can have multiple auditory stimuli and still focus. For me, I would get distracted by song lyrics. I do tend to get lost in writing when the words are flowing. I can get caught up and come up only to realize it's hours later. That's the best feeling
Q) What do you think is your strongest asset as a writer? …what is your weakest factor as a writer?I am so horrible at giving myself praise but, hmm, maybe writing realistic dialogue would be my strongest asset. I feel like my character's come across as real and believable. Right now, I'd say my weakest is being slow. I tend to edit as I write, and it slows the process down quite a lot.
Q) Do you have a favorite book you've written?They are all special to me in their own way. I do have a feeling Small Town Frame-up is going to be a reader's favorite though.
Q) Do you write in a linear fashion or do you jump from scene to scene and then go back and "fill in the blanks"?I am a pantser—no outlining here! So, I do write in a linear fashion. Sometimes a future scene will come to me, usually with dialogue, and I may write that out and save it for the appropriate spot, but when I'm writing the story I like to go in order. Usually I'll write a scene that will prompt the next event, and so the story just keeps building on itself.
Q) Do you want each book to stand on its own, or are you trying to build a body of work with connections between each book?I definitely want each book to stand on its own. The three in my series thus far all have their own storyline and main characters. The secondary characters and the setting are what gets carried along in the series. But my goal is always to have the books work on their own so that it doesn't matter what order to you pick them up in.
Q) What are your upcoming projects?I have one more book in the Rolling Brook Series which is my current work-in-progress. Then I'm going to write a complete stand-alone book to give away free to my newsletter subscribers. Currently, my subscribers receive a free novelette that features the characters from my second book, but I'd like to expand on that. Then I hope to start my next series later this year. It will be set in a small town in coastal South Carolina and feature military heroes.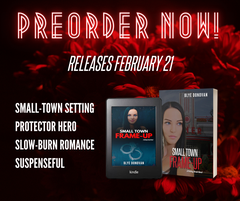 The drugs they find in her apartment have nothing on the addiction she's developing for her arresting officer. Daisy Redland's life is as quiet as the small town she lives in, until she finds herself framed for a crime she didn't commit. With her brother out of town, the only cop she knows to turn to for help is the one who's charging her—the same one she's had a crush on for years.
James Jameson has been trying to avoid the trouble that is his best friend's sister. But when her case gets dropped on his desk, that's no longer an option. As the search for the truth pushes them together, will he be able to resist her? And can they prove her innocence before it's too late?
Find out in this suspenseful, slow-burn romance!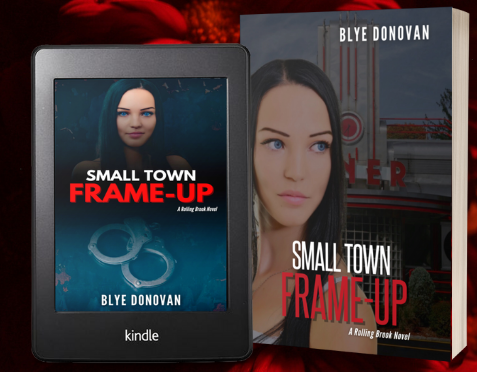 Daisy blinked when Jameson stood. "Time for fingerprints. Let's go."
As she stood, he took her by the arm but didn't put the handcuffs back on. Grateful for that, she took a deep breath and they once again emerged into the bullpen. The room fell silent. Though her cheeks heated, she held her head up this time and kept pace with Jameson instead of letting him drag her. She was innocent and there was no reason for her to let them make her feel guilty. It wasn't her fault she was here, and she was determined to get to the bottom of what was going on.
Her resolve held up as Jameson handed her off to an officer for fingerprinting. It lasted through the horrible mug shot photographs. But when Jameson collected her and led her to a small room with a table, it crumpled. Lying on top of the table was an orange jumpsuit. Staring at it, knowing it meant she'd be staying here longer than she wanted, Daisy's heart rate sped, and she became afraid all over again.
Close to panicking, she spun to face Jameson. "I thought I got a phone call!"
He cleared his throat. "You do. After."
Daisy was afraid to ask, but she had to know . . . "After what?"
Jameson rubbed the back of his neck and avoided her eyes. "After I search you."
Why wouldn't he look at her? Surely patting her down wouldn't be that bad. It's not like she had anything on her person to hide. "Fine. Just get it over with, please."
Daisy spread her feet and raised her arms, holding them out by her sides. She closed her eyes and tried not to think about how much she wanted him to run his hands all over her body.
At Jameson's cough she opened her eyes. He was looking at her now and his face had gone completely red. What was he waiting on? As he tugged at the collar of his button-up shirt and cleared his throat, it clicked for her.
She dropped her arms, and her own face became unbearably hot. Her eyes darted to the jumpsuit and she swallowed. No, oh no, no, no.
"It's a strip search, Daisy."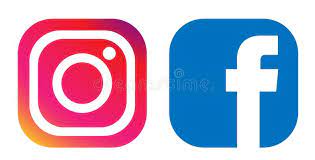 Follow Blye at: FACEBOOK & INSTAGRAM
AUTHOR PAGE